Das Bus 2 - Restoration Process Revealed!
Ever since we purchased our first vintage Type 2 bus in 2013, we knew it was only the beginning. Since then, we've been on the hunt for the next restoration project, one that we could take our time with and enjoy the painstaking process of rust, sweat, and tears.
The day finally came in November of 2016, after months and months of searching listings online, visiting strange driveways with derelict vehicles, enlisting the help of friends and family in the south and midwest, until finally we saw a listing in Durango, CO for a 1966 T2 walk-through camper that still runs! We made an offer the next day and the owner accepted. Das Bus co-founder John immediately flew out to Durango with a backpack full of choice spare parts and tools and drove back our 2nd vintage Volkswagen beauty!
We decided to name the bus Rita, because, yes, The Beatles. Lovely Rita was recorded in 1966 for St. Pepper (released in 1967), the first year of this lovely vehicle's life. While she may not look like much, we knew we wanted to take her home with us! The louvered windows, the walk through, the camper conversion - all are opportunities for SO MUCH adventure! And, of course, a chance to create a beautiful new photo booth experience.
John began by removing all the carpet, flooring, panels and seats from the back. He then got to work cutting out rusty metal and replacing the jack points, outriggers, floor cross beams, the inner and outer rocker panels, and floor sections.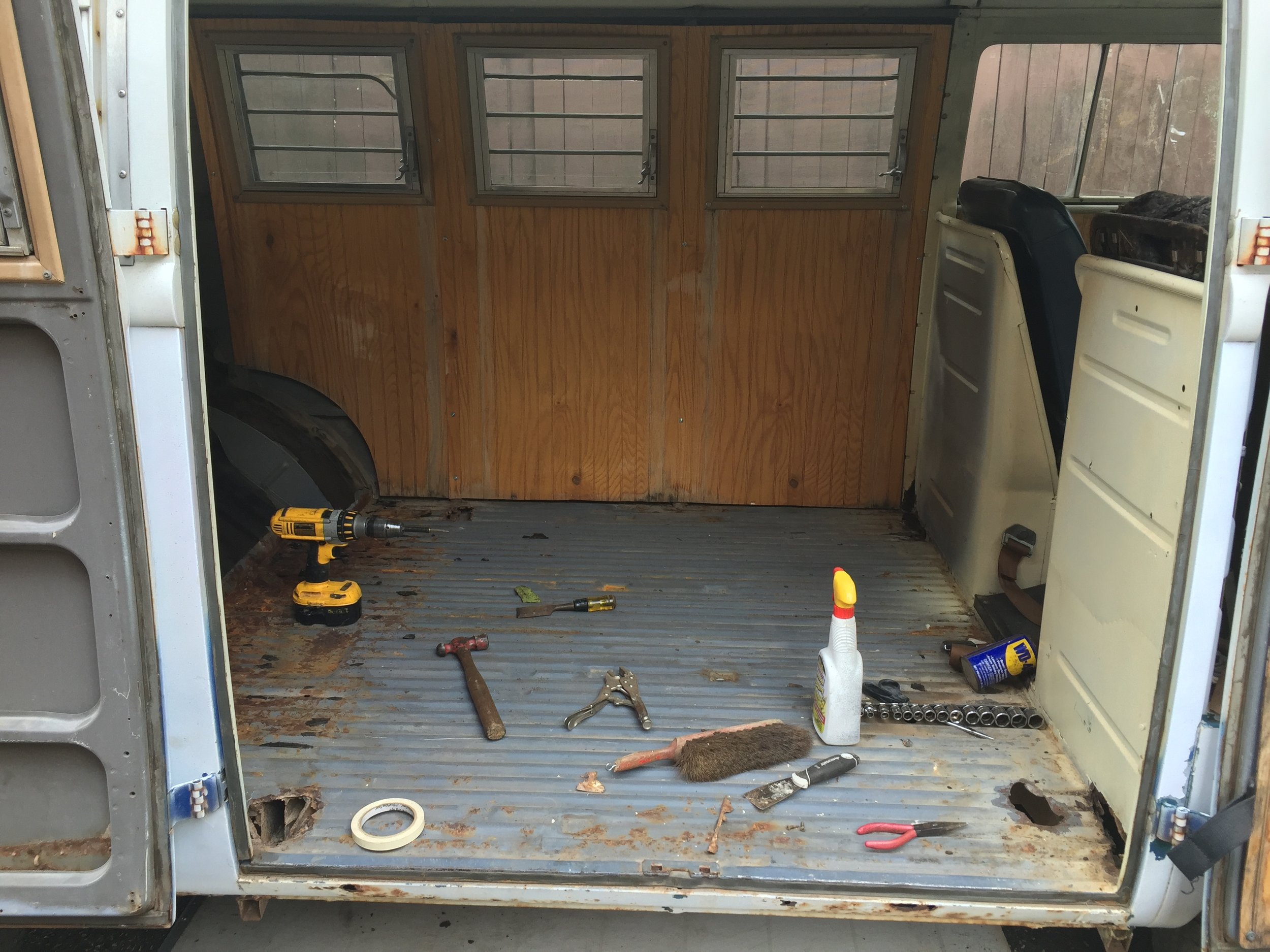 After weeks of wire wheeling off rust and welding the new metal in place, it was time to Bondo and feather the imperfections on the exterior portions.
Then, finally! Time to prep and prime before the new paint job. And, of course, time to take her to Dillon Beach for a quick camping trip!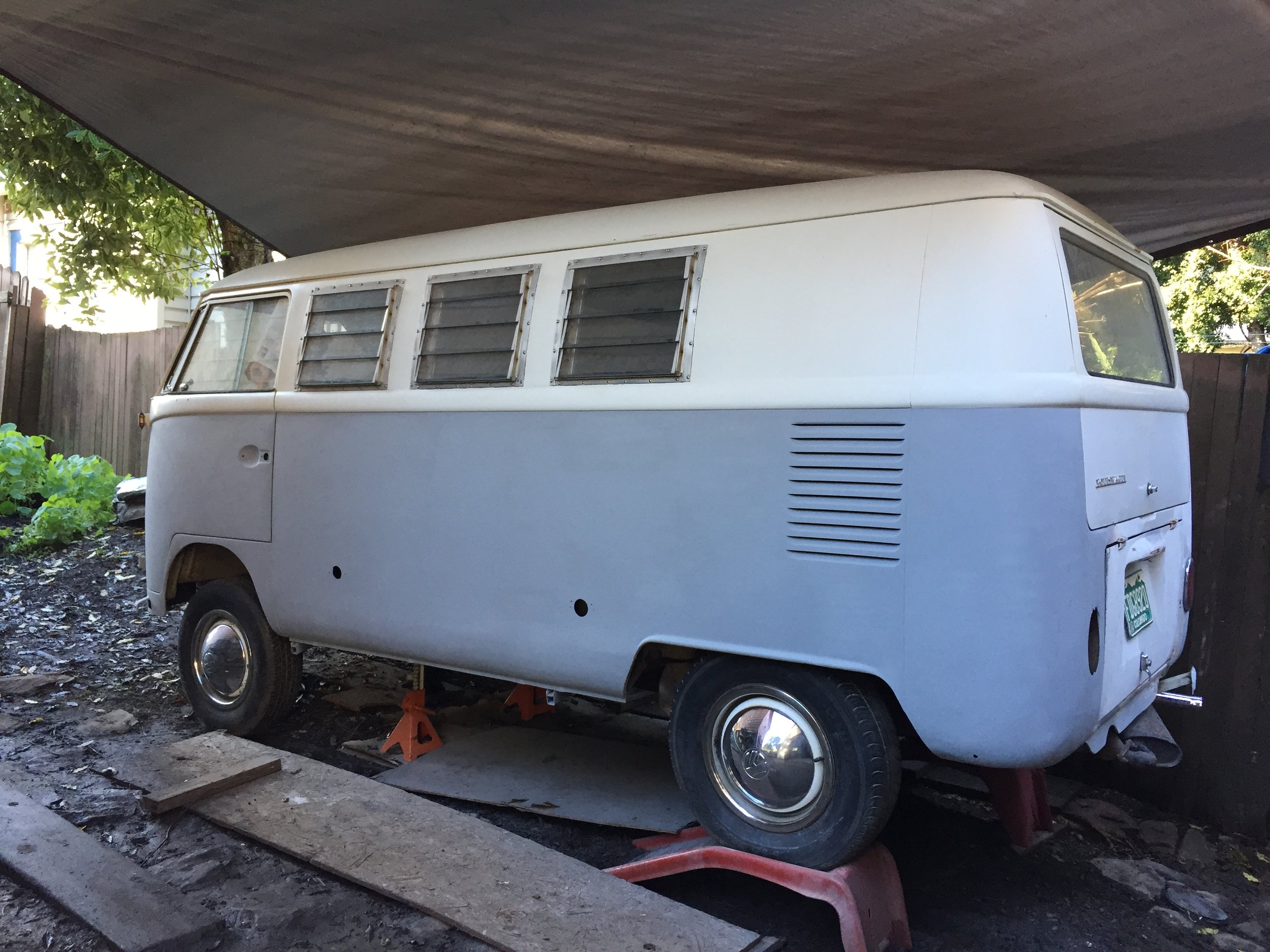 We do not have the space or equipment to do auto paint on our property (one day, maybe!) so we took it San Leandro for a custom job. We mulled over the color scheme for SO LONG, and eventually decided we wanted to keep things consistent with our brand and aesthetic, so red and white it is! This time, the rooftop is left full white instead of red, like our other bus, so there is a slight variation!
Last, but certainly not least, the interior floor, panels and cushions were installed, sewn, and covered! We decided on cherry wood for the interior, which most closely matched the paneling used already on the EZ camper conversion. Brown leather vinyl was chosen for the seats, which John sewed himself. We then purchased similar brown bucket seat covers for the front seats. Kate sourced and installed the lights, photo equipment, and printer and got everything wired in. We then purchased the final touches like props, vintage prop trunk, "Photos" sign, chairs, table and rug. The only two details that remain are the wooden surfboard and rack (currently in progress in John's workshop) but #2 is fully up and running! Ask for Rita at your next event!